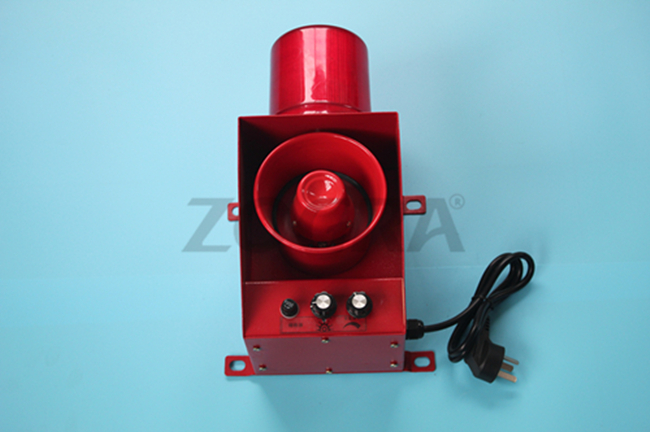 Basic parameters:
Product category: voice acousto-optic alarm product type: voice acousto-optic alarm
Product model: 11-9f
Voice types: 7
Detailed parameters
Power supply voltage: 26V/AC, 48V/AC, 220V/AC, etc
Current: 3A sound volume: adjustable
Type of voice prompt: adjustable reference weight:
Voice, sound and light alarm is a new product developed on the basis of the original four kinds of alarms by our technicians according to the needs of users.Its advantages are integrated with voice, sound and light, and can be directly connected to the ac 220V power supply.
Function:
This product has six kinds of voice and one kind of alarm bell for users to choose.
Voice content:
1. Please pay attention to belt start;
2. Beeping;
3. Sound of ambulance;
4. Sound of engineering vehicle;
5. Alarm bell;
6. Please pay attention to the starting of the crane;
The whistle of the steamer.(voice can be customized according to customer requirements)
The external alarm is equipped with a voice adjusting switch and a volume adjusting switch, which can work normally in a harsh environment.
Maintenance and maintenance:
1. Dust accumulation shall be cleaned regularly to check the initial working status;
2. When the temperature is low, put some oil on the rotating part;
3. Professional personnel should be required to repair the fault.